About us
The pair of contemporary artists Ondřej Konupčík (* 1984) and Radim Kašpárek (* 1990) became famous for the complex technology of transferring acrylic colors from the water surface to the canvas. Ondřej Konupčík is known primarily for his original tattoos, for which clients come from all over the world. Radim Kašpárek is an artist who searches for non-traditional possibilities of expression through new art technologies. The complex technique of acrylic painting from the water surface is his invention. He developed it for four years and during the first lockdown, when Ondřej Konupčík could not devote himself to tattooing, they developed the technology together. The duo is popular not only among collectors but also among designers for the specific visual of organic-abstract shapes reminiscent of the flow of water or fluttering fabric. Most recently, they joined forces, for example, with Festka, a Czech producer of high-end carbon frames for road bikes. Two models of bikes created as part of this unique collaboration were presented at the Karlovy Vary International Film Festival in 2021.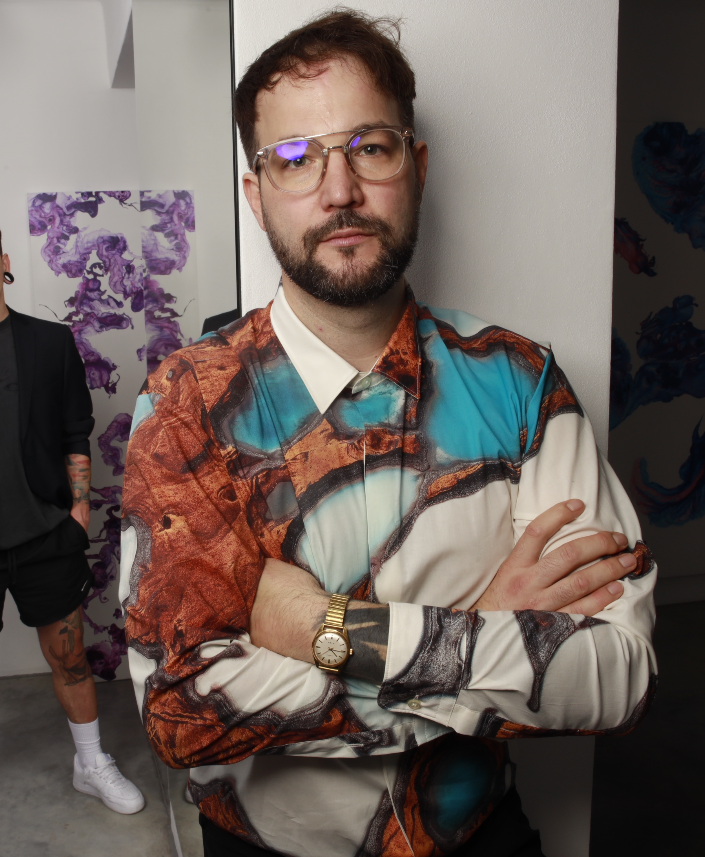 Ondřej Konupčík
Ondřej (1984) aka Ondrash is a world known tattoo artist, an art artist and a founder of the endowment fund Zkruhu. He has a degree from Faculty of Multimedia Communications at Tomas Bata University in Zlin, Czech Republic. The waiting time for his tattoo is 3 years and his clients travel to him from all over the world. Born in Přerov, now living and creating in Prague.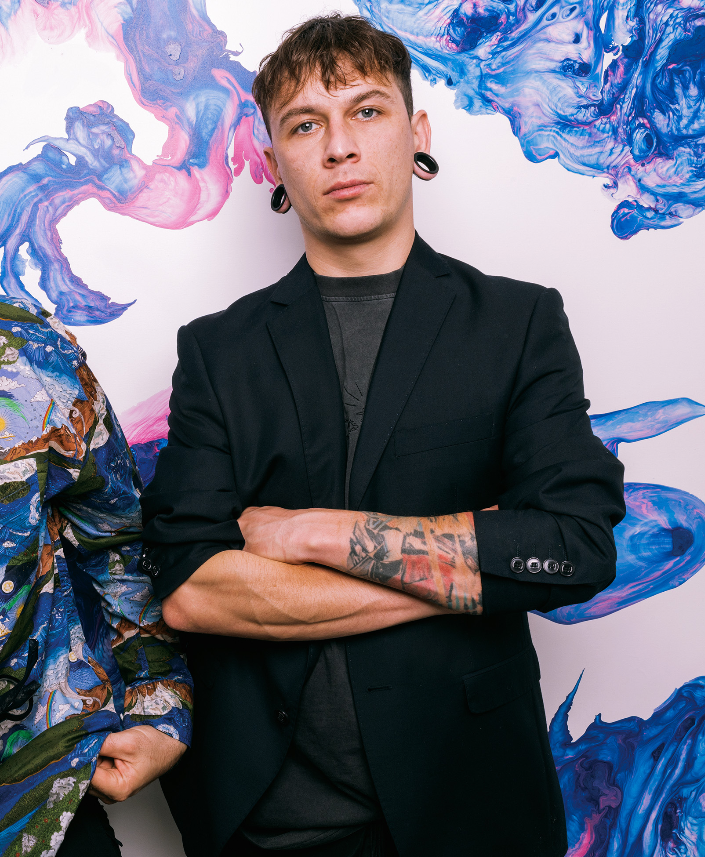 Radim Kašpárek
Radim (1990) comes from southern Moravia and since the childhood he painted, experimented with techniques and was discovering playfulness in the connection of colors. He did not study any art school and comes from a technical background, a while ago he decided to leave a family business and devote himself fully to painting.
The technique
When creating, we work with a moment of connecting the color scale (palette) with the water surface, which is our bearing surface when painting. The technology we work with and develop for a long time allows for universal use in our work. It blends the possibilities between painting and its application to various objects, which opens up a wide range of possibilities in our creative approach and use.

As an author pair, we work together on each work. From its preparatory, implementation to the finalization phase. Each painting is precisely technically processed, as it is not possible to repair it as with other techniques. We have one option and we try to make full use of it through color, compositional combinations and our personal aesthetic vision. In the final work, we give space especially to the viewer to develop his creativity and imagination. We think that any work should be a personal connection with the viewer and therefore the space for imagination is as essential for us as the creation itself and technical perfection.